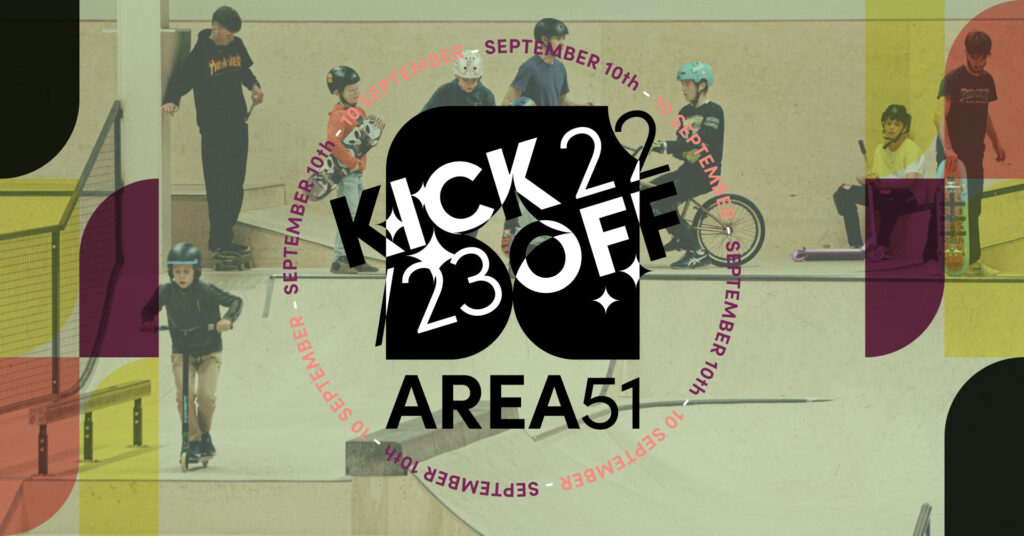 On Saturday, September 10th we will kick the new season off with a bang! 
To start on a high note and get you excited about the rest, you will get to enjoy the 𝗳𝗶𝗿𝘀𝘁 𝘀𝗲𝘀𝘀𝗶𝗼𝗻 of the new season completely 𝗳𝗼𝗿 𝗳𝗿𝗲𝗲!
The free riding will be split into 3 shorter time slots between 13:30 – 22:00. Book one, or all three and come ride
 link coming up
Next to the free riding, there will be plenty to do and to see:
𝗔𝗰𝗮𝗱𝗲𝗺𝘆 𝟱𝟭 𝗢𝗽𝗲𝗻 𝗗𝗮𝘆 I 𝟭𝟬:𝟬𝟬 – 𝟭𝟯:𝟬𝟬
Join the free 30-minute introductory workshops in skateboarding, BMX, stunt scootering, tricking and 
 inline skating! That's right – inline skating will become a part of Academy 51 rooster for a special 8 weeks course. More info coming soon!
𝗧𝗵𝗲 𝗰𝗮𝗳𝗲 𝗼𝗽𝗲𝗻𝗶𝗻𝗴 I 𝟭𝟯:𝟬𝟬 – 𝟮𝟬:𝟯𝟬
It's finally happening – the notorious, long-awaited, and many times rescheduled café opening. Come enjoy the redesigned space with special drinks and snacks, tunes by the guest DJs, and an art exhibition by FVR.
Shut up and Trick I 𝟭𝟯:𝟬𝟬 – 17:𝟯𝟬
Saturday September 10 Shut up and Trick will host another mini-gathering to bring the community together. This time in the theme of the 'old school' vibes that we had together in the Tricking community about 10 years ago. We would like to invite everyone to come and set up a session like we did at the first Tricking Gatherings in the Netherlands. Hence our gathering: SUAT – Asura Reborn! An ode to the first Tricking crew in the South of the Netherlands and our home front.
𝗕𝗮𝘀𝗲𝗺𝗲𝗻𝘁 𝗖𝗼𝗺𝗽𝗼𝘀𝗶𝘁𝗶𝗼𝗻𝘀 I 𝟮𝟬:𝟬𝟬 – 𝟮𝟯:𝟯𝟬
In collaboration with AREA51 and EMOVES, FVR will present an evening full of the unexpected. For more info check out: https://www.area51eindhoven.nl/basement-compositions/ 
Our partners and friends will be also joining the program!
🛼 ROLMATEN Rolschaats will introduce you to rollerskating with a workshop followed by a skate session.
💃 FLXN Dansschool will be looking for the fresh talent for competition teams
⚕️PECE Zorg Physical Therapy will be there to answer your questions about physio therapy and their services.